Summer Programs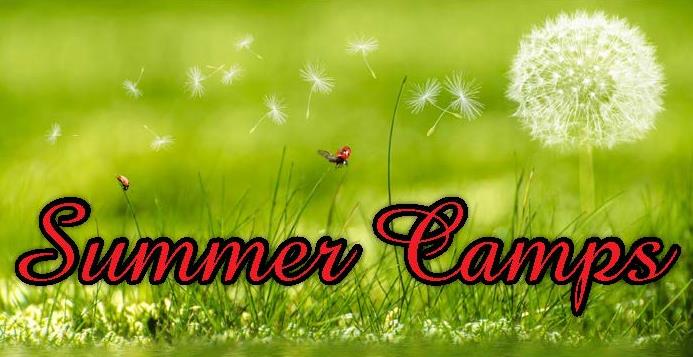 Many Catholic schools in the Diocese of Buffalo offer Vacation Bible School programs. Some offer summer day camps as well.
2023 Summer Camps
ELEMENTARY SCHOOLS:
Notre Dame Academy Summer Camps in June, July and August
Programs for boys and girls of all ages. Notre Dame Academy offers the following camps: Underwater Adventures; Out of thes World Week; Sports with the Moores; Olymics!; Color Collisions; A Stitch in Time; Sensational Science; Under the Sea; Disney Camp; Exploring Buffalo; Notre Dame Gone Wild in Preschool; Middle School Sports Camp; Explore Your Creativity; BuffaLOVE Adventures!; Camping & Nature; Imagination to Hogwarts; Dwon on the Farm; Zootopia!; Beach Vacation; Under the Sea; Ocean Animals; HIGH SCHOOL MUSICAL Theatre Camp!; Let's Go Camping!; Broadway Junior
---
st. amelia school in july
St. Amelia campus is ready to provide an amazing fun camp experience.
---
St. Andrew's Country Day School in July and August
Programs for boys and girls entering grades Pre-K 3 - 8th.
---
St. Mary's Elementary School Summer Care in June, July and August
Programs for boys and girls entering grades Pre-K - 8th. St. Mary's offers the following camps: Art, Science, Technology, Creative Movement, Fine Motor Skills, Group Time, Center Free Play, Outdoor Play Time.
---
other camps:
Camp Turner in July and August
Traditional Track: (Ages 8-13) Pick your own activities, choose your own clubs, plan your own day. Pick your favorite activities to hone your skills, or challenge yourself to try something different and discover talents you did not know you had.
Pathfinder Track: (Ages 14-15) Pathfinders partake of the session themes that are offered each week in the regular sessions, sometimes helping to implement them. Participants enjoy more freedom (ability to change activities in the middle of a period), later wake up and bedtimes, more campfires and some special evening activities separate from the younger campers.
Explorers: (Ages 14-15): This is a 13 day high adventure session including: 3 Night Backpacking Trip; Training in outdoor living skills and low impact camping; Trip to Sky High Adventure Park (additional fee). This session also includes special evening programs, more campfires and later curfew.
Counselor in Training (CIT): (Age 17 or 16 with 2 years as a CT camper) This is intended for young folks who want to begin working at Camp Turner. Participants must be 16 years of age before the summer begins, have working papers and complete a staff application. This internship has several components, including outdoor education, leadership training, service, journaling, spiritual reflection, team building, photography, and staff training.
---
LE3 Camp Cranium Summer Camp (various LE3 Academies, christ the king, nativity of mary, St. Joseph - Batavia) from June - August
Programs for boys and girls Preschool 3 - 8th grade. Our BIG theme this summer is Friends! Each week we follow a different theme to create lessons for children to enjoy! This year our weekly theme is based on an episode title that will allow us to explore art, athletics, science, and more!
---
HIGH SCHOOLS:
Summerspace Camps (Buffalo Academy of the Sacred Heart) in June and July
For girls entering grades 5-8. Camp descriptions and the registration link will be available by April 1.
---
BEST.SUMMER.EVER (Canisius High School) in July and August
Higher Achievement Program (HAP): This unique four-week program for rising 7th grade boys provides a blend of enriching academics, athletics and fun each day.
Outdoor Adventure: Rising 6th and 7th grade boys spend time in the great outdoors participating in a wide variety of exciting activities, including the ropes course at Sky High Adventure Park in Ellicottville, climbing at Central Rock Gym, kayaking along the Buffalo River, and other fun, memorable adventures!
Robotics: At the Robotics Workshop, rising 6th and 7th grade boys delve into concepts of robotics, engineering and programming, building robots using the Lego Mindstorm platform. Participants work in teams and experiment with building plans with the goal of competing against other participants at the conclusion of the program.
Video Game Design: The Video Game Design & Animation Workshop for rising 6th and 7th grade boys is an introduction to video game design, art, animation and programming. Participants learn and use basic computer programming and art skills to design, build, demonstrate, and play simple video games. You'll get to work in Stencyl, and will learn basic gameplay design, computer programming, and use computer applications to create game graphics, interface art, and simple animation.
---
Cardinal O'Hara High School July and August
Programs for boys and girls ages 7 - 18. We are pleased to again be offering a variety of summer camps for the summer of 2023. Our camps include both full and half day options, academic and sports as well as theatre and arts.
---
chesterton academy august
Walk by Faith Retreat: Campers participate in our popular, fun, fast-paced activities like kickball, water games, and a drama production, adoration, praise & worship, Mass and confession.
Brain Boot Camp: Campers participate in 10 hours of grade appropriate math and writing prep to kick students into gear for back to school success! All classes taught by Chesterton instructors.
---
Camp Mercy (Mount Mercy Academy High School) August 1 - 5
Programs for girls entering 3rd through 8th grade. Camp Mercy is a week long summer camp with a ton of activities, arts and crafts and sports. Each day is filled with adventure and creativity.
---
Mount St. Mary Summer Sessions in July and August
Programs for girls entering grades 5th - 8th. Join us for a great summer of fun in a safe way at our athletics and creative camps. Learn more about all our summer camp offerings, and register today! New this summer: Flag Football, Crew and Photography camps!
---
Nardin Academy Summer Camps in June and July
Programs for boys and girls of all ages. Nardin Academy offers the following camps: Montessori Camp A Summer of Expression and Exploration, Gator Days Adventure Camp, Fun Fundamentals, Sports Camps: Girls Field Hockey, Girls Basketball, Cross country/Track, Multi-Sport Summer Camp, NFL Flag Football Camp, Squash Camps.
---
st. francis high school june, july, august
Summer Exploration: For boys in grades 5-8 in the fall of 223. Camp will have ESports and one other option of: Film Making, Outdoor Adventure or STEM/Robotics depending on the week. Runs in July.
Summer Sports Camps: Hockey Clinic, Baseball Camp, Lacrosse Camp, Volleyball Camp, Soccer Clinic, Basketball Camp, Football Camp
---
St. Joseph's Collegiate Institute June, July and August
Collegiate Summer: Collegiate Summer provides a fun four weeks of engaging academics, sports, arts, field trips and more in preparation for high school. Boys entering 8th grade in fall of 2023 are invited to get a glimpse of what it's like to be a Marauder.
Sports Camp: Choose from: Baseball, Basketball, eSports, Football, Hockey, Lacrosse, Rowing, Soccer, Summer Running Club, Track & Field, Volleyball, and Wrestling.
Innovation Camp: Discover. Explore. Create. Students will spend a week exploring different technologies inside St. Joe's Innovation Center. Innovation Camp is offered for boys entering 7th and 8th grade in fall of 2023.
Outdoorsman Camp: Join the St. Joe's Outdoorsmen for a week of hiking and exploring. Campers will meet at St. Joe's each morning and then will be transported to a different hiking location throughout the Buffalo-Niagara region each day. Outdoorsman Camp is offered for boys entering 7th and 8th grade in the fall of 2023.
Jazz Lab Band Camp: The SJCI Summer Jazz Lab Camp is available to boys entering 7 - 9 grade in fall 2023 who have 2 or more years of experience on: Alto, Tenor, Bari Sax; Trumpet; Trombone; Piano; Guitar; Bass; Drums
---
collegeS:
hilbert college July
Digital Media Film & Journalism Summer Camp: Spend your summer at Hilbert College with hands on journalism and film camps! Make professional connections in the field and collaborate on a portfolio building project.
Various sports camps: Basketball, Football, Baseball, Ice Hockey, Lacrosse, Soccer, Volleyball