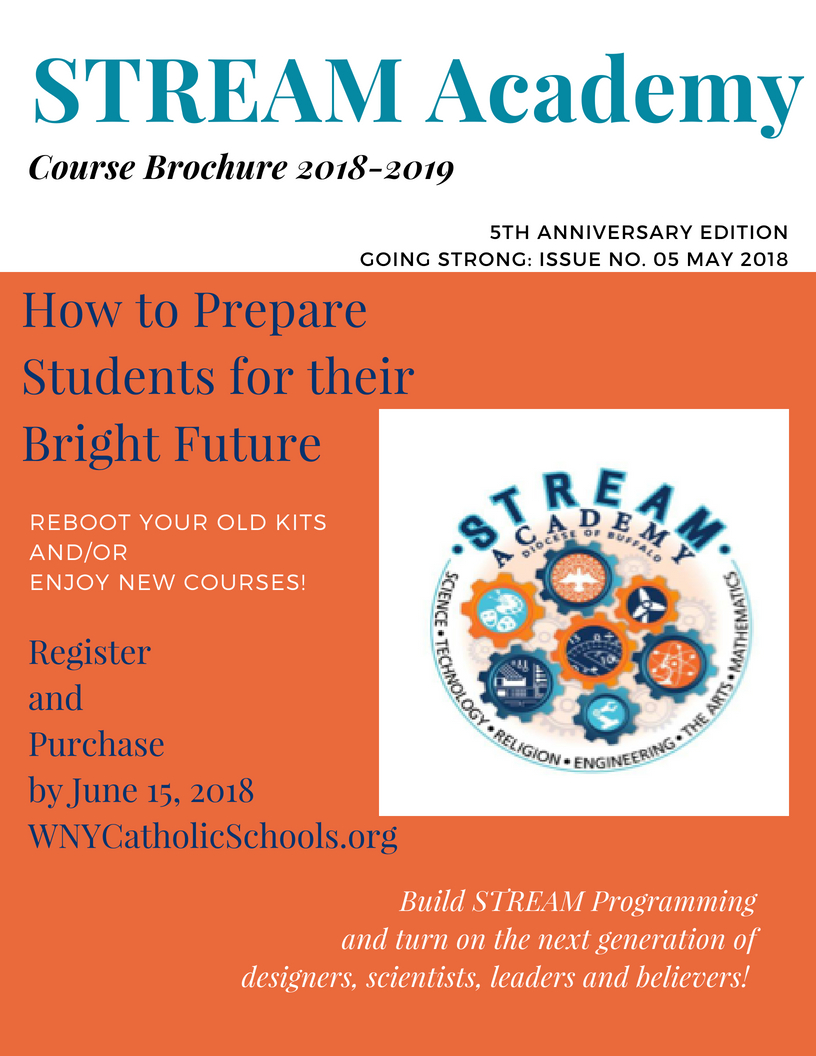 Welcome to STREAM Academies 2018-2019!
STREAM Academy Course Brochure 2018-2019: Click here for PDF Version
STREAM Academy Course Brochure 2018-2019 without prices. This can be used for your websites and other marketing materials: Click here for No PRICE Version
STREAM Academies purchase will be open unitl June 15th, 2018.
This year, you must purchase your academies and register for training separately. Both links are listed below.
To Purchase STREAM Academy Kits for the 2018-2019 pick your payment option below (please take note that if you would to purchase multiple items, use the back button. Any items you prevously added to your cart, will remain in your cart. Before checking out, review your cart. The back button is like a continue shopping button):
The "bill me" option is being offered for your convenience whether using a school check or Title II funds.
Payment is due at time of purchase.
Kits will not be prepared until payment is received.
All payments are due by Tuesday, July 10th, NO EXCEPTIONS!
Alternatively, we are here to help you process STREAM Training purchases using your Title II PD Funds!
Please send an email to dcs@buffalodiocese to provide the details of who will be billed.
We will adjust the invoice with the information you need to submit for Title II Funding.
You will be given the invoice and it is up to you to submit the invoice for processing.
IF YOU NEED HELP ORDERING ITEMS, please call Paula at 716-847-5525 or email dcs@buffalodiocese.org!
Robotics and Future City
For Robotics:
Order VEX Robots Kits -

Form to order

here
New Vex IQ Callenge for 2018-2019
New 2018-2019 Vex IQ Challenge Next Level only order here
Register for Vex Training with the STREAM Academy Trainig using the link below. There is a training fee of $35.00.
Special Note for Future City:
Please feel free to officially register for Future City Competions on their national website. There will be no Future City training this year on August 22nd. If you need a Future City Mentor, please email dcs@buffalodiocese.org and request a mentor.
STREAM Academy training will take place on Wednesday morning, August 22nd, 2018. Please click on the registraiton link for further details.
PLEASE NOTE: this year we are offering More Fan Favorites, Kits and Mini Training. Mini Training is comprised of mandatory kit pick up plus one hour walk through of the course on August 22nd in the SJCI library. NO CTLE Hours will be issued for this walk through.
POWER UP training will take place in the afternoon of STREAM Academy training on Wednesday August 22nd, 2018. Please click on the registration for futher details.
Please provide Ginny Wallace with the names of the STREAM Academies you will be offering during the FALL 2018-2019 School Year. By completing this form, an email will be sent to Ginny automatically. (Remember to enter your school name and submit by June 20th)