Sr Gail Glenn (Catholic Academy of West Buffalo) Named Woman of Distinction by Senator Jacob's
Fri, May 18th 2018 12:00 pm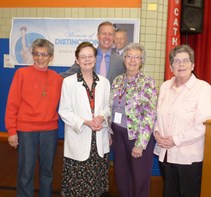 On Friday May 11th, 2018 Sr Gail Glenn of Catholic Academy of West Buffalo was honored by Senaor Chris Jocobs after being named a Woman of Distinction!
Sharing in Sr Gail's happiness is Sr Carol Cimino (Superintendent of Catholic Schools), Sr Bea (Red Sweatshirt) and Sr Patrice (all Sister of St. Joseph).
Congratulations Sr Gail!