Phys. Ed. Teachers Get Coached at Workshop
Wed, May 24th 2017 09:05 am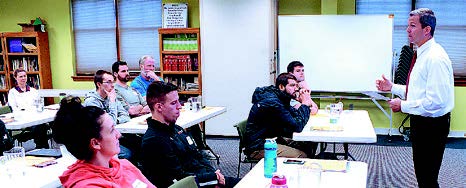 On March 31, 18 Catholic school physical education teachers from across the diocese came together at the University at Buffalo Newman Center to participate in a professional development day. Former professional athletes Brian Kiszewski, diocesan director of elementary athletics, and Mark Kelso of the Buffalo Bills began the day that was filled with a variety of topics.
Kiszewski, a former professional bowler, started the morning out with the mission statement of the diocesan program and the importance of these outstanding teachers and finished with some of his personal life experiences in sports.
Kelso then took over the reins and gave a presentation on "Developing a Foundation for Future Success," and also related to a number of his personal experiences from his teaching, sporting and coaching days. Maureen Poulin, associate director of Lifelong Faith Formation, completed the workshop with her presentation on "Integrating Catholic teachings into their PE and health classes."