Bishop Malone Host "Talk-Back" with St. John's Students
by Linda Garrity
Tue, Mar 28th 2017 01:50 pm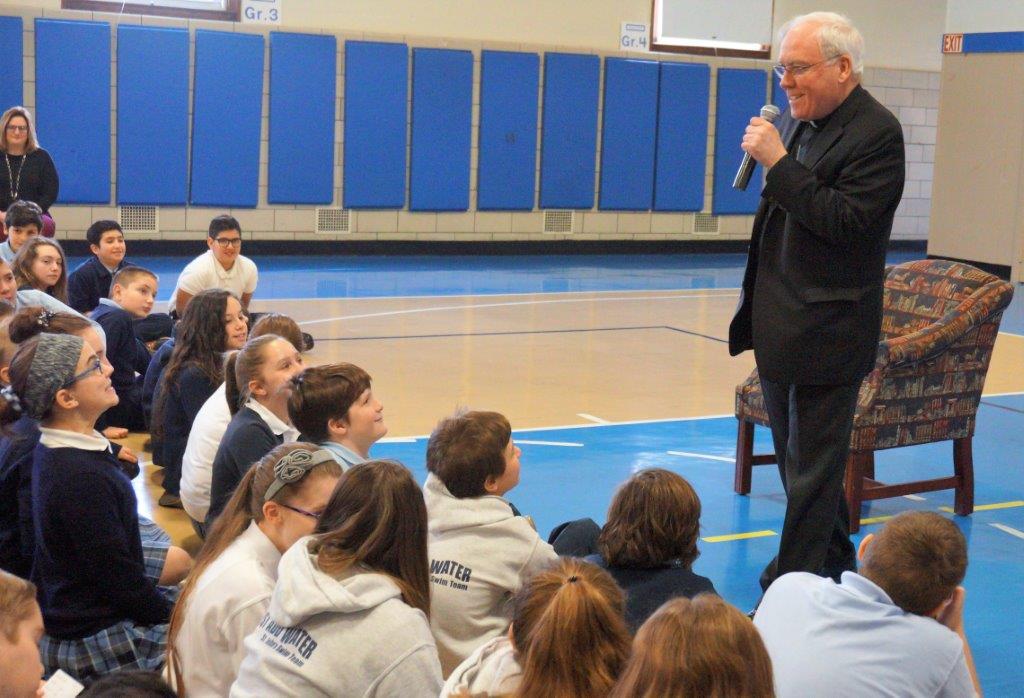 The Most Rev. Bishop Richard J. Malone recently held a "talk-back" with the intermediate and junior high students at St. John the Baptist School in Kenmore. Bishop Malone celebrated mass with the students, families, and faculty of the St. John's community, focusing on the various vocations and opportunities that life has to offer! Centered upon this theme, the bishop then hosted a 'question and answer' session with students.
For over an hour, the curious youngsters posed a myriad of questions—from his experience in elementary school and his calling to the priesthood to his favorite foods and sports teams to his pet dog, Timon. 7th grader Caroline Cook seemingly impressed the bishop when she recognized that his dog was named after Buffalo's first bishop, John Timon.
The group found common ground in their love for pizza and other foods and the students were thrilled to learn that Bishop Malone is now a converted Buffalo Bills fan—having been a long-time Patriot's man from his well-established New England roots. The personal exchange of these antidotes and comparisons brought smiles and laughs among all. However, students carefully listened to Bishop Malone's message regarding their future.
"He really encouraged students to be open to the various opportunities life brings," says Principal Cynthia Jacobs, "telling students that often a passion that starts now could become the basis for a life-long venture. Bishop Malone spoke of his desire to become a priest—in part because he always knew he wanted to work with people in a special way. Although he came to his vocation relatively early in life, it was that underlying call to work with people that sparked his religious vocation."
Jacobs says that the Bishop encouraged all people to certainly be open to religious vocations, but moreover to be aware and develop whatever choices are planned for the future. "Bishop Malone recognized the work of the laity in the church—people working you're your youth and in our parishes, teachers in our Catholic schools, folks associated with Catholic Charities and so forth...so many ways to contribute to today's church and bring Christ's message of love to today's world. And based on the feedback I received from students, they were most impressed with how fulfilling and joy-filled the choice of a religious vocation was—citing the Bishop's true enthusiasm and passion for what he's doing...I'm thrilled my students had the opportunity to experience this side of Bishop Malone and get to know him in a bit of a different manner!"