Catholic Schools Participate in X-STREAM Expo
by Patrick Buechi
Tue, Mar 28th 2017 11:10 am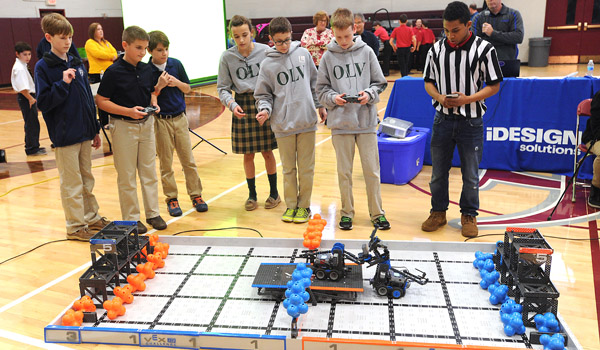 The third annual X-STREAM Expo rolled, bounced and rose through the halls of St. Joseph's Collegiate Institute in Kenmore on Dec. 4. Nearly 1,000 students from more than 25 area Catholic schools demonstrated their knowledge of science, technology, religion, engineering, arts and math while competing in robotic, cooking and bridge-building activities.
SJCI's commons, musical hall, gym and classrooms each hosted a different competition or display. The cafeteria became a game arcade as students built their own playable games using little more than cardboard and tape.
"The students started out conceptualizing the game," explained Marian Abram, STREAM coordinator and social studies teacher at Our Lady of Victory School in Lackawanna.
"They had to design their game and they find they have to go into redesign. We're using engineering principals. We're using brainstorming. We're using teamwork."
Four of the 19 STREAM students at OLV took part in the game-making demonstration.
Matthew Viverto, a sixth-grader from OLV, built his version of the classic claw game that has frustrated kids for decades. His game picks up balls, rather than toys, and drops them into a hole. Each player has one minute to try. Winners get candy, so there is still a prize.
"It was very hard to make it on my own. It took me about seven weeks," he said. "I wanted to design my own game that was like a game people already know."
The machine, about the same size as the arcade version, is comprised of wood boards making up three sides, with basket wrap making the front window. During the construction, Viverto realized the box would be to heavy to lift, so he used a cardboard floor rather than wood. He also had trouble designing the jagged-edged track that players maneuver the claw through.
Grace Guarino and Brian Sibley, both 11, created The Cannon, a mix of pinball and skeeball, where players shoot a ball into one of three holes for points. They found the idea online, but made some modifications. Balls are launched through a sawed-off Pringles can with a balloon on one end.
"It's a long, hard process, but we did it, and I'm proud of what we did," said Guarino. "To be in STREAM you have to have imagination. You have to discuss what you want to do. You can't just jump right in it. You have to have a plan. You have to think about it, discuss it, and then you can start building everything."
They credit their success to teamwork.
"I think we made really good partners, because I'm a good builder and she's a good brainstormer," said Sibley.
"I have a good imagination. If you give me something little, I can make it into something bigger than what anyone else can think of," added his partner.
Tyler Brotz went old school and created a simple basketball game. Players try to sink three baskets taking a step further away with each try. To complicate things, the seventh-grader shifts and moves the basket from side to side from behind the backboard while people shoot.
"They have a lot of trouble when I move the basket from side to side. If it's stationary, most of the kids make it in, but when it's moving, it's harder for them to get it in the basket," he said.
He chose to design his game because he loves to play basketball, but wanted to add a twist.
Meanwhile, in what St. Joe's calls their Black Box, 11 fourth-grade classes competed in the Kitchen Chemistry. Students had to bake some holiday treats, then reformulate the recipe to make the treats healthier. Confections were judged by health improvement factor, most innovative, and overall yumminess. St. Joseph School in Batavia won the overall best contest for their White Christmas cranberry bars.
"We found the original recipe, then we found the healthier recipe, then we followed the healthier one," explained Maria Parttico, age 9, part of St. Joe's five-member team.
The new recipe cut down on butter, salt, sugar and used egg whites without the yolks. This reduced the calorie count from 320 to 149, without cutting any of the taste.
Kitchen Chemistry is open to fourth-graders who learn how to measure ingredients, the difference between solids and liquids, and the effect ingredients, such as cornstarch, have on the recipe.
Teacher Sharon Fischer learned that her students could easily follow the directions presented to them.
"I brought the ingredients out, had the measuring cups out. 'You do the wet and you do the dry ingredients.' They measured everything. They mixed everything. They cleaned up after themselves," she said. "They're very efficient in the kitchen. I just had to buy the ingredients and they did the rest. I was very impressed."
Throughout the school, displays from the PEAPs and Sprouts filled the halls. Sprouts, for kids pre-K through first grade, explores nature inside and outside the classroom by examining insects, weather, plants and animals in their habitats. PEAPs, the Primary Engineering Adventure Program for grades one-three, used Curious George books to help the inquisitive chimp find his way through the city. Lego U kids had fun with a purpose as they told the story of Creation through Lego displays.
Other events at the expo included Creative Coding that introduces science concepts in a collaborative atmosphere on computers, and Rockin' Rollercoasters where students learned the history of rollercoasters, design them on computers, then build a working marble rollercoaster, using insulation, cardboard and tape.
Another big event took place in the Commons. The Science Scrimmage comprised of five events that had students using everything from drinking straws to lasers. Each school made part of a Rube Goldberg machine using ramps and levers, which were all connected after the completion, sending a marble across the room. Grab-a-gram taught the art of estimating as students had to estimate 50 grams of brown sugar and little plastic birds. Students competed to build a bridge using straws, pipe cleaners, cotton swabs, tape and index cards. The bridge had to span two feet and hold a bowl of pennies. The structure that held the most pennies won. A catapult of craft sticks flung pennies across the room.
Students worked together in a reflection relay using mirrors to reflect laser around an obstacle in the center of the box.
The Science Scrimmage taught teamwork, as well as the concept of trial and error.
"It's getting them exposed to different things; getting them comfortable with failure. Some of their stuff didn't work today. That's part of what learning is. Sometimes it works, sometimes it doesn't," said Shelly Reidy, coordinator of professional development for the Diocese of Buffalo's Catholic Schools, who moderated the scrimmage.